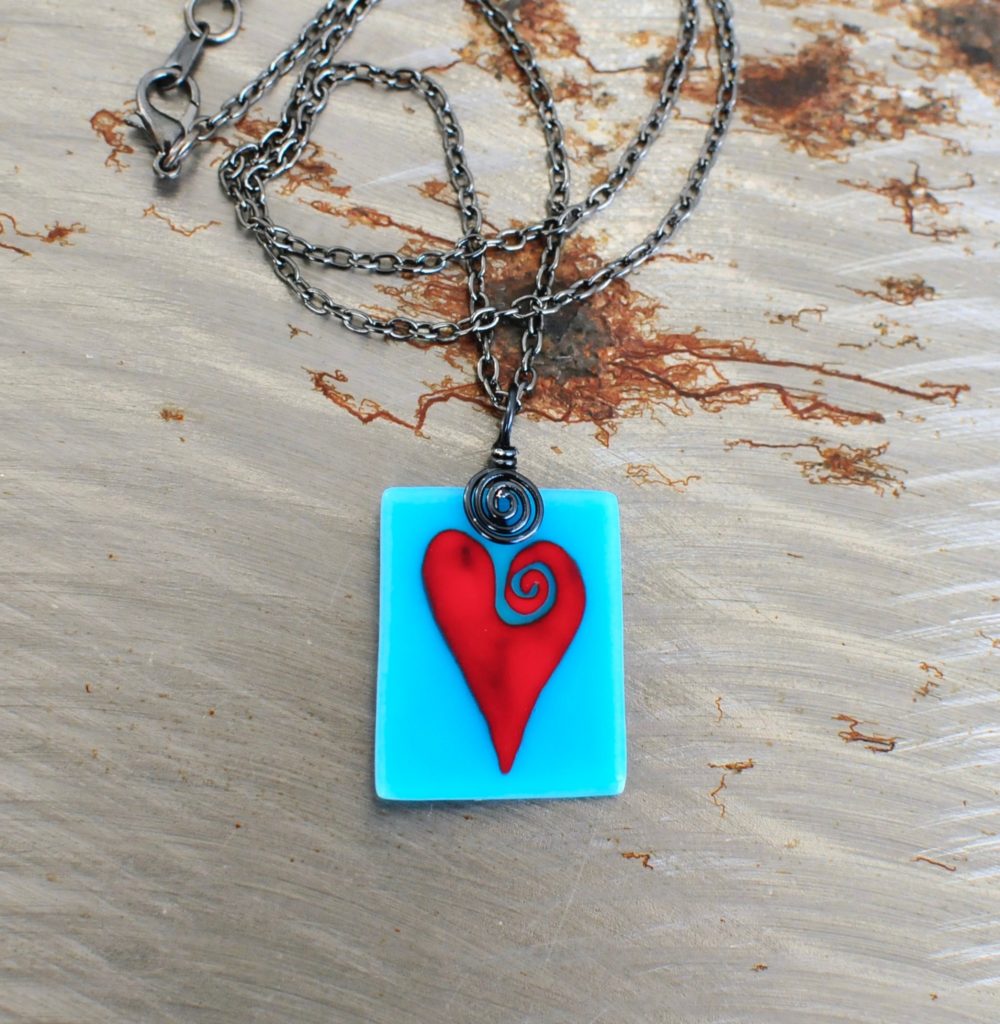 Reflection is always a way to grow. As we head toward the end of 2017, I wanted to take a moment to look back on some of my favorite fused glass jewelry I've made this year. I'm so thankful for my online business because it has forced me to document the work I'm making. Once a piece leaves me, the document is all I have aside from the memory, so it has been really great to have photos to look back on.
I say often that, "work leads to more work," when people ask me how I come up with all my ideas. Last year I began experimenting with powder enamel and glass. I got some really cool pieces from the process, but enamels are basically powdered glass that become airborne, and when inhaled can lodge themselves in your lungs and give you silicosis. But enough of that scary stuff! In search for a safer technique I purchased several glass paints and shortly thereafter designed my Whimsical Hearts Valentine's Day Jewelry. My goal in designing these pieces was to create something light and fun, so I used really boldly contrasting colors to the white and red hearts I painted on the glass. They are sweet, fun, and light, exactly what I wanted!
One of the things I've done more this year than in the past is to use different ways to hang my pendants and earrings, other than simply glueing findings to the backs of the glass. I started working with some beautiful laser etched dichroic, and really wanted to simply highlight the glass by adding a decorative touch of spiral coiled wire by the bail, giving the piece a little more interest. I actually did this on my Valentine's Day heart pieces too. Again, work leads to more work! So…I'm spending a ton of money on Dremel bits, and even more time making now, but who's counting! The pieces look cool with the extra decorative element, and it does make a difference when more parts of a piece of jewelry is considered. I drill a small hole in the tops of several of my glass pieces now, allowing me to make wire bails with spiral accents that show up in a lot of my jewelry. In addition to more wire on the pendants, and continuing to perfect my wire wrapping throughout the year, alternatively there have been more metal free glass pieces created in my studio than ever before. I use fiber paper in these pieces, creating a hole for a chain or satin cord to slide through, and that's how the piece then hangs. You'll see more of these in 2018!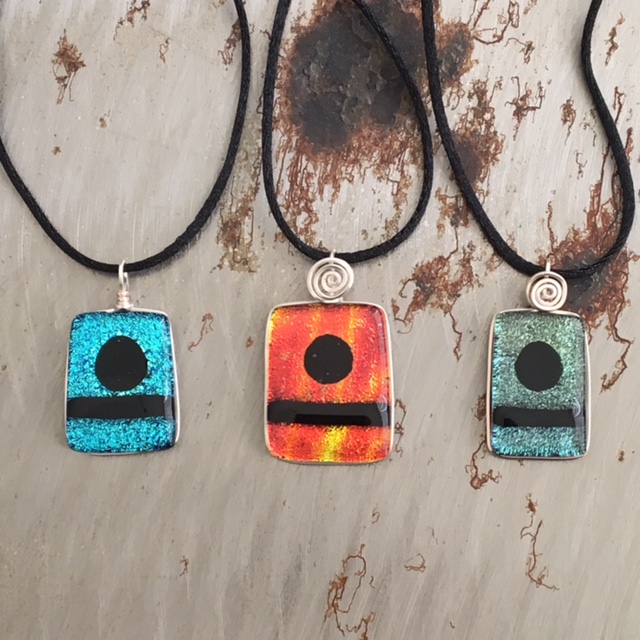 On August 21, 2017 an awesome total eclipse of the sun passed through The Great Smoky Mountains, inspiring my Totality Collection. I've been etching on glass for several years and immediately thought etching the point of totality where the moon covers the sun was the way to go. The sparkly dichroic glass could act as the shimmering corona, and the etching would symbolize the point of totality. I fused a line of black glass atop these pieces to create depth and a horizon. It's one of the most modern pieces I've designed, and I think also very effective in that it's timeless and not corny. That was the last thing I wanted!
During the holiday season I started racking my brain for something different and unique for a new Christmas line I wanted to create. I have to admit, the designer Betsy Johnson was a little bit of an influence here. She uses crazy fun patterns and bold colors together, and they work because of the intent. A theme of my jewelry will always be "fun". When I started looking over my dichroic glass, that's all the shimmery glass, I started thinking about wrapping paper. Boom, presents and little gifts were the direction I wanted to go! I thought funky color combinations with fun patterns would be perfect because wrapping paper is so boldly colored with a foil quality, and all kinds of fun patterns. Gladly they were a hit! If you missed out this year, I'll be doing more next year, so don't worry!
And that brings me to where I am now. I'll be embarking on my slow season, where I'll let more ideas flow through. I'll try some new techniques, maybe some will stick, certainly some won't, but hopefully it will lead somewhere that will help me to continue to keep things fresh for you all. I've added a couple pieces to the gallery I didn't necessarily specifically talk about, however they are pieces that I think are really beautiful and wanted to share.
Thanks for another wonderful year, friends!
With love, Kimberly
---